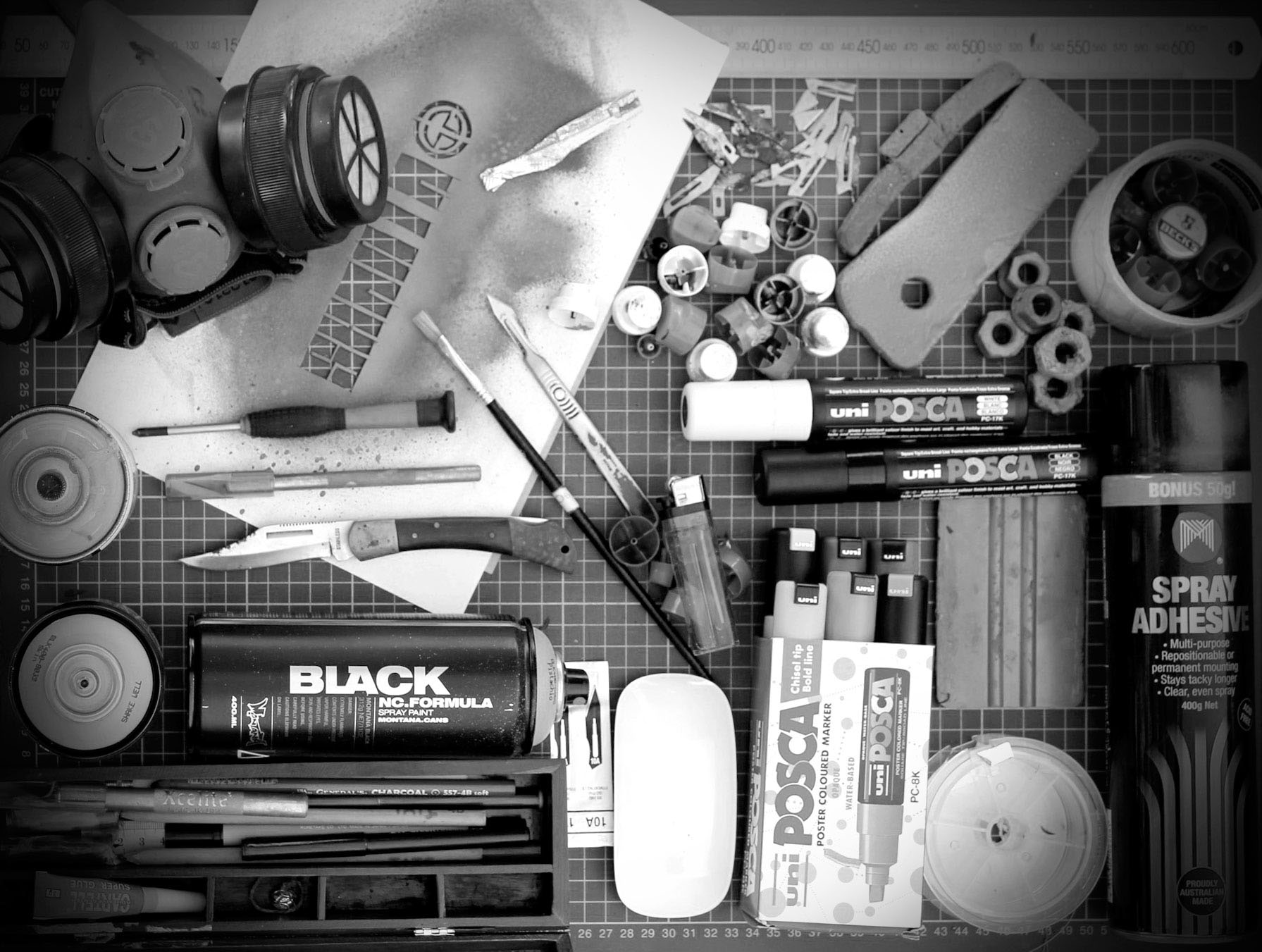 Paul Shanta AKA "Shanta" is a New Zealand born Stencil Artist & Graphic Designer now living in Sydney, Australia. Bent on contributing to the bizarre and fantastic culture here on earth, Shanta creates a unique style that incorporates influences from nature, unlocking imaginary realms and invoking creative muses to guide his work. 
"I do what I do not because I have to, but for the love of it - it's my passion". Shanta is a hard-working passionate soul whose stencils and digital illustrations have been widely used - from the full branding of restaurants and bars, to posters, apparel design and numerous forms of illustrative branding.
I firmly believe in having set style tones yet a sense of diversity, making any project unique.
So get in touch and let's make awesome art together!
• In the Night Garden - Aurora - Tortuga Studios - Group Exhibition - Australia 2018

• Fake - Tortuga Studios - Group Exhibition - Australia 2018
• Stencil Art Prize - Noosa Regional Art Gallery,
Austra
lia 2018
• Stencil Art Prize - Muswellbrook Regional Art Centre,
Austra
lia 2018
• For Syria's Children, Fundraising Exhibition, Besser Space,
Austra
lia 2017
• Stencil Art Prize - Sydney Fringe Festival, Stirrup Gallery
Austra
lia 2017
• With a Rebel Yell - Group Show, Tortuga Studios, 
Austra
lia 2017
• Stencil Art Prize - Sydney Fringe Festival, Off-Broadway Festival Hub, 
Austra
lia 2016
• Stencil Art Prize - aMBUSH Galle
ry, Austra
lia 2015
• Stencil Art Prize - aMBUSH Galler
y, A
ustralia 2014
• Stencil Art Prize - Chrissie Cotter Gallery, Australia 2013
• Australia Stencil Art Prize - Chrissie Cotter Gallery, Australia 2012
• Let Me Tell You A Story - Tortuga Studios - Group Exhibition - Australia 2012
• Analog - Tortuga Studios - Group Exhibition - Australia 2012
• Painting Grounds - Tortuga Studios - Group Exhibition - Australia 2011
• Australia Stencil Art Prize - The Outpost Project - Cockatoo Island, Australia 2011
• Day of the Dead - Tortuga Studios - Group Exhibition - Australia 2011
• ONE X ONE X ONE - Lo-Fi Collective Sydney, No Vacancy Gallery Melbourne & 19Karen Gallery
  The Gold Coast - A Three Sixty Project Skate Deck Exhibition Australia 2011
• Easy Speak - Tortuga Studios, Australia 2011
• Interwoven III, Design Institute of Australia, Gaffa Gallery - 2011
• Sidewayz Art Exhibition - The National Grid Gallery, Australia 2011
• Expo for Mattia - Naples, Italy 2011
• Australian Stencil Art Prize - Oh Really Gallery, Australia 2010
• Expo for Mattia, Naples, Italy - 2010
• Nocturnal Dreaming - Plump Gallery, Australia 2010
• Still Life - An Art Auction Fundraiser for FBi Radio, Art Gallery of NSW, Australia 2010
• Beware Mortality - The Wall, World Bar, Australia 2010
• Australian Stencil Art Prize Finalist 2010
• Made In Sydney - The Wall, World Bar - Viewers Choice Prize Awarded 2010
• Solo Show - Corridor Bar, Australia 2010
• Shanta Stencils with Love & Hate Clothing - Group show - 7th Chamber Gallery - New Zealand 2009
Publ
ication
s
• The Express - Local Newspaper Canterbury Bankstown Council - Sept 2016
• The Torch - Local Newspaper Canterbury Council - Oct 2015
• The Torch - Local Newspaper Canterbury Council - Oct 2014
• Rah Collective Book, Volume 2 - 2012
• One x One x One - 2011
• 3D World - 2010